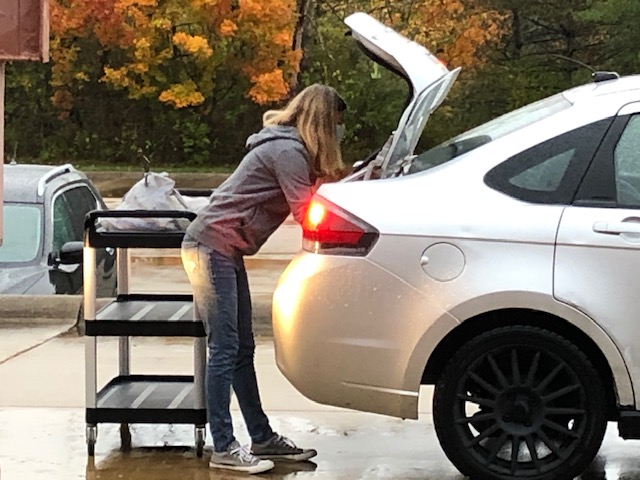 HM CARES MINISTRY
As Christians we are called to tend to the needs of the less fortunate. HM Cares is a community outreach ministry of Holy Martyrs Church committed to this end. Through acts of stewardship, HM Cares provides faith-based opportunities to serve those in need, both within our parish family and beyond.
HM Cares Mission:
To serve the less fortunate in our community with dignity, compassion, and faith-based support so that through the grace of God, hope can be restored. By doing this with care and respect, we show our brothers and sisters that they matter and are children of God.
To provide our parishioners with the ability to practice their faith as disciples of God through the sharing of their time, talent, and treasures with those in need.
HM Cares programs:
Food Pantry – Multiple days during the week food is distributed to the needy. Food is obtained through the Akron-Canton Food Bank, parishioner donations, and other local businesses. The church pantry has been stocked and providing this valuable service for many years.
Financial Assistance – Those in need may request rent and utility payment assistance. Those requesting help are contacted by HM Cares volunteers to discuss, detail, and submit their need. Payment may then be issued with a check sent directly to the appropriate payee on behalf of the requestor.
Seasonal Assistance – The holidays are a time when the needs of the less fortunate are more keenly felt. Thanksgiving and Christmas offers the opportunity to extend our charitability to those experiencing this additional stress.

Turkey Run – HM Cares coordinates this annual food drive to assist the Saint Augustine Parish Hunger Center. The Hunger Center provides Thanksgiving meals for those that may not be able to have a traditional Thanksgiving dinner. An estimated 20,000 people are fed on Thanksgiving Day at Saint Augustine and a network of 33 homeless shelters, hunger centers, and churches across northeastern Ohio.
Give-a-Gift – Toys, games, clothing, and more are collected to help make the Christmas season a little brighter for local area children. Parishioners sponsor a child obtaining their Christmas wish list to fulfill. Unwrapped gifts are then delivered to the church and caravanned to the coordinating organization in mid-December.
If you are a parishioner or Medina County resident in need, please contact us at 330-635-4989 or hmcares20@gmail.com to learn more.
Parishioner Assistance Opportunities:
Share your time, talent, and treasure by joining one of our teams supporting the ministry:

Call monitoring team; retrieving and recording voicemail and email inquiries
Client outreach team; calling clients directly and entering their requests
Financial team: review the requests to confirm qualification, write, and mail the payments.
Food Pantry Distribution team: complete client food requests, pack the food, aid in the pick-up, and record the activity.
Food Stocking team: pick-up food from various sources and stock the pantry.
Administrative team; assist in reporting, process improvement, and communications to the Parish
***Please send an email to HMCares20@gmail.com to inquire about serving on the team***